sell your home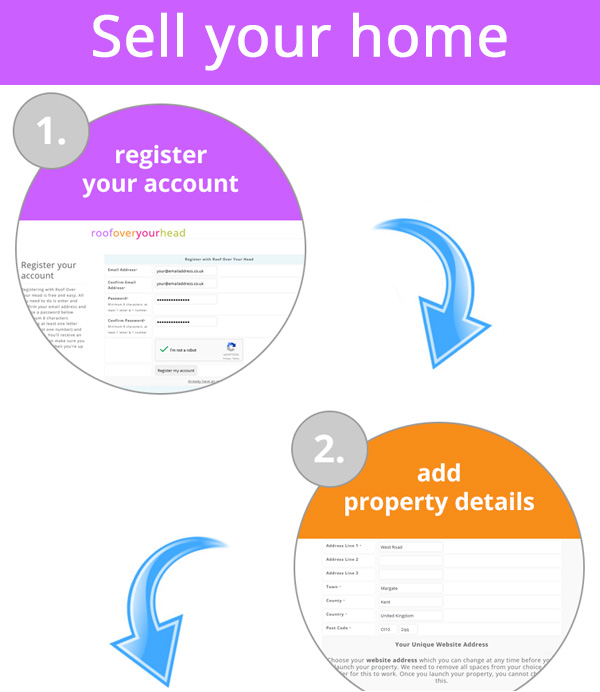 So you want or need to move. Fine, we just need to find someone that will love your home as much as you.
Locate them. Show them why it's great. Pass on that love. Bingo. Not a difficult process.
And these days, with access to virtually the whole word at your fingertips, it shouldn't be. Yet strangely it is often one of the most stressful processes imaginable.
roofoveryourhead will change that.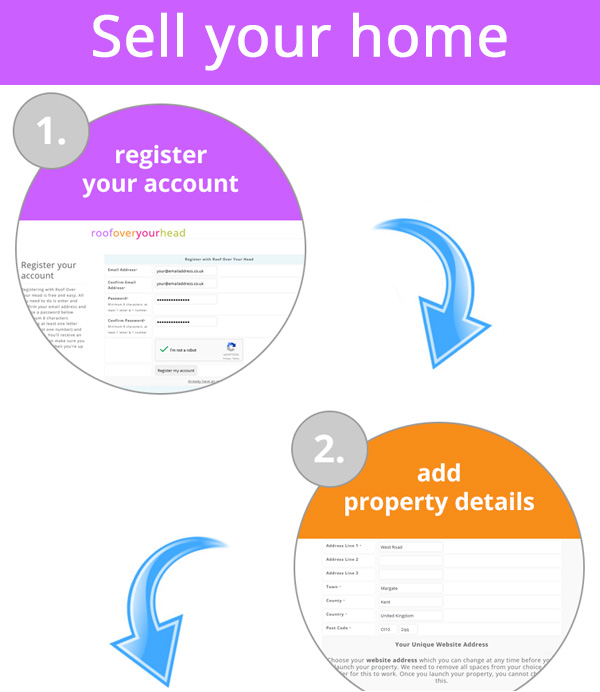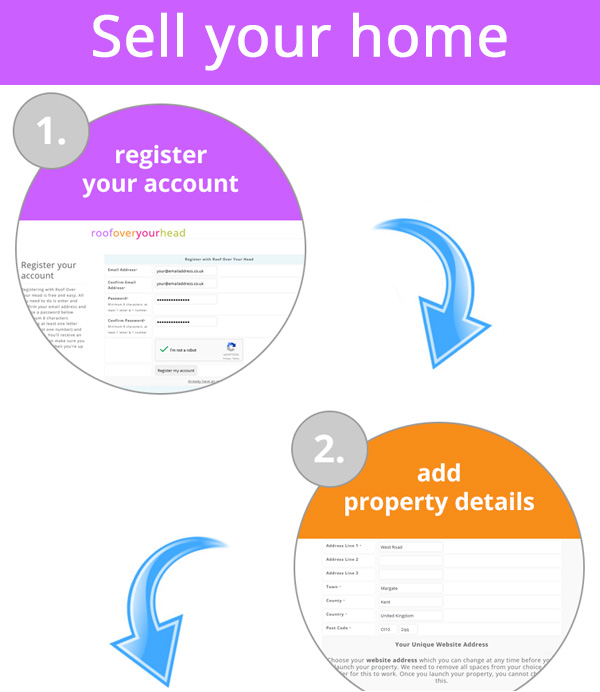 making things easy
With roofoveryourhead things are made easy by supplying you with the tools to effectively market and sell your property. Enabling you to manage the whole process from the initial promotion, through ongoing communications and contact, to the negotiations and subsequent agreement. Low hassle and low cost.
So if you want to cut out the middle men, deal directly with buyers, remove pressure and save money then why not sell your own home.
With roofoveryourhead we give you the tools, you do the rest.
We will supply you with:
your home's individual personalised website.
two unique web addresses.
individual marketing material to print or email.
internet and social media marketing.
personalised display 'For Sale' board
a virtual sales room allowing you to communicate, arrange viewings and negotiate with potential buyers
Have we missed anything?
Oh yes the cost.
We hope we've got that right too - roofoveryourhead is absolutely free. That's right nothing, zilch, nada. So crack on and save yourself thousands.
planning the sale
Many people prefer to control the sale of their home. After all, it is your home and not the estate agent's so nobody knows it better than you and you should be the person who makes the important decisions.
you're in control
When you are selling your own home, you are in complete control. You decide on the price. You decide where and how it will be advertised. You decide what and if preconditions are required for potential buyers; who gets to see the house. The whole process is according to you and, at a later date, the buyers' schedule, not on the estate agent's.
With control comes responsibility. Be fair, highlight the many great aspects of your home but be honest and accurate, otherwise you'll waste your time with viewings that come to nothing.
If your sale doesn't seem to be going to well, remember you're in control. You need to make it a success; what your objectives are and what is important to you.
If speed is more important to you than maximising the price, you can perhaps do something with the commission you are saving - lower the asking price for your house. A lower price may result in a quicker sale. What balance is right for you?
However remember for motivated private sellers, lowering the price might not even be necessary to achieve a quick sale. After all, you know the house better than any estate agent and you have greater commitment and motivation. You just need to plan your sales process in easy steps:
preparing the property
valuation
marketing
viewings
negotiations
agreeing a sale and legalities
preparing the property
The old adage 'first impressions count' is particularly apt when showing your house. The potential buyer is likely to make up their mind within minutes, if not seconds, of seeing the property so you must ensure that it is in the best shape possible. You want to draw a positive reaction from every room, even a cupboard "mmm what a handy space".
first impressions
You don't have to spend thousands on a complete makeover but whatever the property age, type or location, home buyers are attracted to clean, spacious and reasonably well looked after houses.
Try and sort all those little jobs that you've been meaning to do; cut the lawn, fix the squeaky steps, broken tiles etc. Unless you're selling a real fixer-upper, it is unlikely the buyer will look forward to doing them.
create a warm welcome
Space is important too. Most of us live in an ebb and flow of tidiness with some days being better than others. However a quick tidy up really helps. Simply removing the clutter from counter tops, tables and rooms can make a huge difference. Make the viewer think that they'd like to live in such a clean and tidy space. Sell the dream rather than the reality.
When you have done the Mary Poppins bit, get a friend or neighbour to review the house like a buyer would. Get their opinion on how it "shows."
valuing your home
Setting the value correctly is fundamental to selling your home.
calculating
What is it worth? How much do you want? What will you accept? How long can you wait?
To a certain extent the price determines interest; get it right and they'll be banging at the door, get it wrong and they may never even get to the door.
price zone
So don't over price, if you do you won't generate sufficient interest. Here, clearly one of the great benefits of conducting a private sale is that you're saving on commission so you may have more room to have a slightly lower cost to attract buyers. That said, don't under price, people may think there's something amiss, and you may equally sell yourself short.
steps to take
So how do you get the right price?
marketing your own home
Just as buyers often look for location, location, location. As a seller, you are looking to achieve exposure, exposure, exposure.
Reaching your goal
And at roofoveryourhead we aim to provide you with the marketing tools and techniques to maximise your home's exposure; enabling you to achieve a wide and varied promotion, accessing groups and individuals via a mix of modern online and more traditional techniques.
work hard
Marketing and selling your own home is not difficult, it just takes planning and effort. As a start, please review our guide to marketing your own home, which explains some marketing tools and common sense tactics that are at your disposal with roofoveryourhead.
selling your own home
You are your home's best salesperson.
nobody does it better
Nobody knows your home better than you (and you certainly know it better than an estate agent who may have only spent a few minutes in it). Nobody can impart as much passion as you and clearly no one has a better motivation to sell the property than you.
prepare yourself
That said, you don't need to be an expert salesperson, just well prepared. Use the brochure to understand your property. Remember what made you buy in the first place. Why was it great then and what have you done since then to improve matters. Impart the positives but don't ramble.
Practice viewings. Listen to feedback and adapt.
Be relaxed, enthusiastic and genuine. Read more about how to manage viewings and show your house off. Link to Managing viewings and showing your home.
negotiation
careful consideration
When the buyer makes an offer, stay calm. It's not sold, the money isn't in the bank. It is just the start of the process. Time to ask more questions:
How does it sit with your target price?
What is their situation, e.g. chain free, need to move immediately.
What are their financial circumstances, e.g. cash buyers or approved mortgage.
How has the response been to date?
How is the market fairing?
How does this all sit with your desires and circumstances?
reach agreement
The market, and certain TV shows, have made it common for a 'game' to be played so the first offer is quite often not the buyer's absolute highest price they are willing to pay. So if you feel you're in a strong position and the offer is below what is required, you could politely reject it or even offer a counter offer.
Negotiating is part of the home selling process and the offer and counter-offer process can be repeated until either both parties agree to the terms of the sale, or both parties stall or end negotiations. We are not suggesting this is a game of bluff and counter bluff; negotiations can be frank, open and honest - they want your house and you want a certain amount of money for it - somewhere in the middle is a point where both parties are happy.
Listen, speak frankly and ask the same of them. This is good negotiating. This leads to a committed sale.
When you get to the point you reach agreement, be professional and get your solicitor to review the seller's offer and position.
legal process
When you accept the offer, the property is only sold 'subject to contract'. The agreement is only legally binding when contracts exchange, and you have only actually sold the property when, upon completion, the legal transfer occurs. The process to achieve this is known as conveyancing.
contracts and conveyancing
The starting point of conveyancing is when the buyer's solicitors draws up the contract. This contains important details about the property - what you are buying - and includes information such as the fixtures and fittings, the boundaries and any legal restrictions associated with it, and critically the price and the target completion date.
on to completion
Although the contract is drawn up by the buyer's solicitors, its contents must be agreed to by both the buyer and seller. When they are both happy with the contract, both sides sign final copies and pass them to each other; this is the exchange of contracts. The agreement is now legally binding. The deposit is generally paid at this point and the date for completion is set.
On the day of completion, the funds are transferred from the buyer to the seller. Legal documentation formally transfers ownership to the buyer. It's yours, the seller moves out, you get the keys and move in.
legal protection
Just as you can sell your own house, it is possible to undertake your own conveyancing to transfer the property between buyer and seller. However although we are all in favour of doing it yourself, the technical nature of conveyancing, and the independent nature of your sale, makes it practical and prudent to consider employing a solicitor from the early stages.
requirements - professional advice
Even though they're an additional expense, they will be there to provide educated advice and protect your interests. They will:
Provide you with guidance and support throughout the process.
Provide you with a quote or an estimate for the conveyancing.
Advise you on the legal aspects of selling a house privately (obligations to the buyer etc).
Check the offer when you receive an offer for the house.
Review the seller's contract.
Undertake all communication with the buyer's solicitor.
Arrange for the transfer of the legal title.
Arrange the release of mortgage documents as required by lending institutions, and arrange mortgage repayments.
Receive final payment from the buyer's lawyer and arrange for keys to be transferred.
agreement and surveys
If you are borrowing to buy your new home, your mortgage lender will order a survey of your home (possibly at your expense) to make sure that it is adequate collateral for the loan - if you can't pay the loan back, and they have to repossess and sell it, will they get their money back. This will not provide you with detailed information so you may wish to consider paying for a further survey. They may charge you for this.
click for surveyor information