buy your home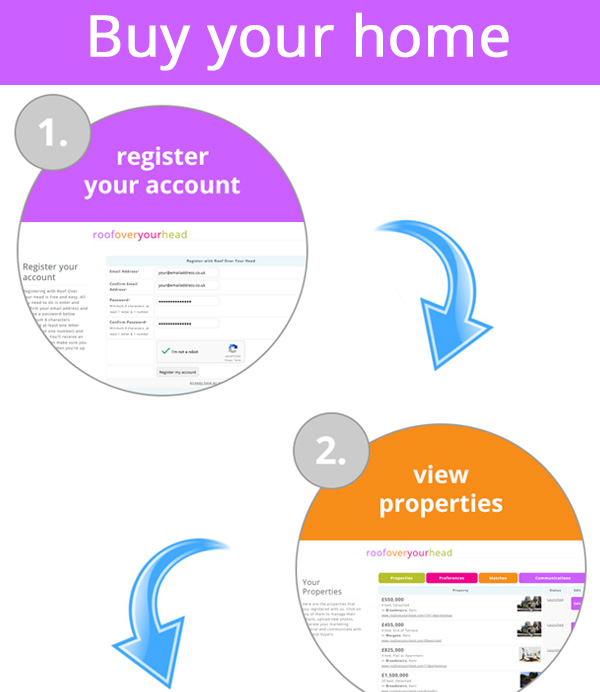 roofoveryourhead gives easy access direct to the homeowners.
You can communicate directly with sellers; ask questions, arrange viewings and negotiate directly on your terms. No estate agents, no middle men, no Chinese whispers, no pressure and thankfully no commission. Answers come straight from the seller and without commission or unwanted pressure, the seller might be more agreeable to negotiations.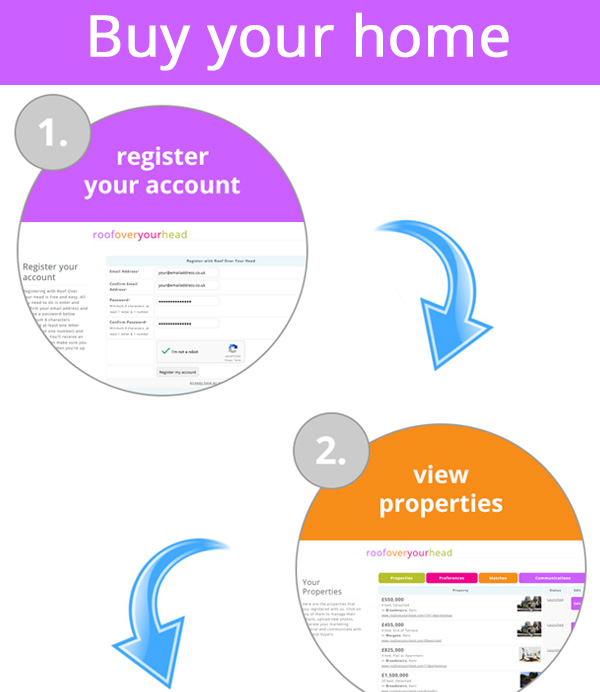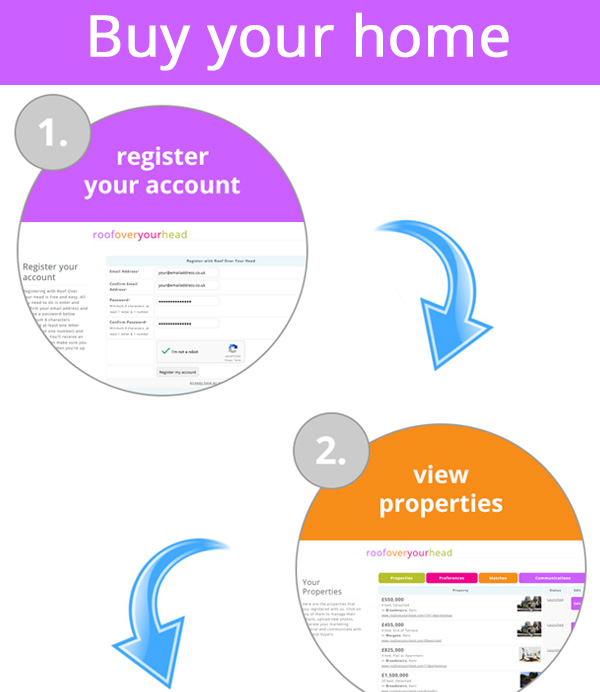 how roofoveryourhead will help
Even without the involvement of estate agents, buying a house is clearly a serious matter and, whether you are a first time buyer or an experienced home owner, it requires research, planning and commitment.
you're in control
roofoveryourhead gives you the structure and support you need to manage your purchase privately; controlling your search, separating the wheat from the chaff, before directly communicating with homeowners and, following the co-ordinated viewings, negotiate agreeable terms.
With roofoveryourhead you are in control. You can be thorough and professional.
where to start
Prior to negotiations, there are generally three main considerations; your desired location or locations, the type of property you want to live in and, of course, what you want to/can afford to spend. Finding an appropriate balance between these factors is key to finding, securing and enjoying your future home.
you decide
roofoveryourhead will help filter these and many more factors. Not just where and what you'd like to buy but the more individual aspects such as period features or room for a sizeable children's trampoline.
Begin your search or read on to learn more
the search
The perfect home is a fickle thing; for some that little pied-a-terre, in the bustling metropolis, is perfect, to others it could be an urban nightmare. Equally, conveniently located schools may be a must for young families but a headache for those wanting a quieter life. So, although homes are often purchased on an initial look or feel, for a thorough, objective search, the emotion needs to be taken out of the matter
Make a List
It's good to talk
The world in your grasp
You're in charge
make a list
Start by determining what factors are important to you, for example, location, price, number of rooms, garden, near to work, open spaces etc.. (have a look at our search tips for some more ideas) What are the factors that are important to you? (hints, tips & FAQs). Next, make a comprehensive list, placing the factors in order of priority. Use them to start and filter your search.
When you have a selection of properties, use this to analyse each property independently. If the winner is not automatically obvious, you could even grade each one according to the factors.
it's good to talk - it's good to walk
If you are limiting your search to a certain area, the best thing is to take a good walk, get to know it. Learn which streets are ideal, which are a compromise and which are no goers. Your dream home may jump out at you.
the world in your grasp
For wider searches obviously the internet is a great tool and it is not surprising that most house hunting now starts online. It is a truly fantastic resource allowing you to sort through thousands of properties by a multitude of criteria. If it's not immediately on roofoveryourhead, a simple google search can filter millions of properties.
you're in charge
When you have seen something on Roofoveryourhead, remember with us there's no one pressuring you. If it ticks many or most of the boxes, use the Sales Room to contact the owners. Ask them questions, fill in the detail, if then it all looks and feels right, go and have a look.
Happy hunting.
And when you've found it, even before any viewings, get your ducks in line with independent financial and legal advice.
affording your home
Practically speaking, for the vast majority of us, finding a dream home is often quite a lot easier than actually affording it. You obviously want to get the best home possible, however it is probably not simply a case of what you need or want but what you can actually afford. So to begin, although you don't need to be an accountant, you will need a budget.
overall costs - consider all costs
Start by working out the expenditure associated with the purchase. Remember that this is not just the initial mortgage deposit but one off costs such as the Stamp Duty and solicitors fees.
what next?
Next, by reviewing ongoing income and expenditure, calculate what you can afford to repay. Be realistic; ensure that you can cover expenditure during the good times and the not so good ones too. Find a balance, compromise when necessary.
With all the figures at your fingertips, work out what can you borrow and which lender will give you the best deal. Again the internet is a great source of information. When prepared, if you feel it necessary, proceed directly to lenders or speak to an independent financial adviser.
the viewing
OK you love it. Perfect Home, great price, the kids will love it, good pub round the corner... Great but, before you start placing the furniture, become a cold, calculating professional house hunter.
there's no rush - relax
Take your time. You're going to live there day and night for many years to come. So don't just view the property once, do it a number of times, at different times of day, to find out what it's really like. Don't just stick to the property, walk round the surrounding area. Do you want to live there too?
With roofoveryourhead there is no pressure so, during viewings, by all means pay compliments to the owners but don't be afraid to ask difficult questions also.
Note what is good and what is bad. Identify work that needs doing. Reassess it against your search criteria.
contact a solicitor
Remember even if everything seems right, even before you have made an offer it may be prudent to contact a good solicitor and in addition to any mortgage survey, consider employing a surveyor to professionally assess the property.
While we hope to add a bit of open honesty to the property market, we cannot vouch for the information placed on roofoveryourhead. So check the information for accuracy and employ a professional surveyor if necessary.  
negotiation
When you have found the perfect Roofoveryourhead, it is time to negotiate an agreeable price. This can easily be done through the Sales Room.
Having communicated with the sellers directly, you should have a good feel of what they want and how to approach them. If you want to offer a lower than the asking price, be prepared to justify it and possibly face rejection. If you think it is worth the asking price and you want to secure it a.s.a.p., or avoid all the toing and froing, you may want to consider offering your best offer, or near to the asking price, initially. Again, be straight up with your justification.
offer a reasonable price - be reasonable
Remember the homeowners want to sell and you want to buy, it is about achieving common ground therein. Honesty is often the best policy.
If your offer is accepted, ask the buyers to take the property off the market, instruct your solicitor and your lender. From this point on, although you can do your own conveyancing, for speed and thoroughness, you might want to handover to the qualified solicitors.
legal process
When your offer is accepted you do not yet own the property, it is only sold 'subject to contract'. The agreement is only legally binding when contracts exchange, and you only finally own the property when, upon completion, the legal transfer occurs. The process to achieve this is known as conveyancing.
contracts and conveyancing
The starting point of conveyancing is when the buyer's solicitors draws up the contract. This contains important details about the property - what you are buying - and includes information such as the fixtures and fittings, the boundaries and any legal restrictions associated with it, and critically the price and the target completion date.
on to completion
Although the contract is drawn up by the buyer's solicitors, its contents must be agreed to by both the buyer and seller. When they are both happy with the contract, both sides sign final copies and pass them to each other; this is the exchange of contracts. The agreement is now legally binding. The deposit is generally paid at this point and the date for completion is set.
On the day of completion, the funds are transferred from the buyer to the seller. Legal documentation formally transfers ownership to the buyer. It's yours, the seller moves out, you get the keys and move in.